And, Also, for the SF Bay Area:
Bay Area Film Industry Night
Tuesday, August 16, 2022
6:00 PM to 8:00 PM
Black Hammer Brewing – 544 Bryant St., San Francisco, CA 94107


RSVP now
Details: The film industry is and has always been a fundamentally social industry. You never know what connections you make can lead to an opportunity. Every set you work on, your network of film professionals gets bigger and cultivating the film career that you want for yourself becomes more actualized. But when you're on set you're focused and fast-paced. At film industry nights, you have a chance to get to know your fellow filmmakers for free and at a relaxed pace. Come meet fellow Bay Area commercial, tv, and film pros to network and socialize.
Hosted by: Emily Frew
2022 Call for Entries!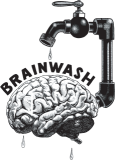 The 2022 Brainwash Movie Drive-In/Bike-In/Walk-In Festival Call for Entries.
A rarefied and unique event: A drive-in movie festival high in the eastern California Sierra Mountains! Screening the weird, unusual and significantly great (but, probably, unheralded) movies of the world for the past 26 years. Every season, the Brainwash Drive-In/Bike-In/Walk-In Movie Festival screens your movies, gives awards and now going online, too! Join us! Submit your movie and/or come on out for the shows, or stay home and see how it all looks on the home movie screen. Nothin' like it!

So enter and help yourself and the movie arts at Brainwash!
FULLY JURIED.
"Oh, Brother!" Entries: Shorts $40, Features $90 by July 31st, 2022

Note: Shorts are under 13 min., Features under 130 min.
Movies 13-59 min. are Shorts; 60-129 min. are Features.
We can no longer accept credit cards except through


The 28th Annual Brainwash Drive-In/Bike-In/Walk-In Movie Festival will be at:
Doyle, California 96109
(Across from the Buck Inn)