Our theatrical shows this year are over. Now, we are headed into broadcast, internet presentations, and our drive-in series, continuing outdoors in Doyle, CA, starting in spring, 2023. More info. and show postings right here, culminating in our new edition at the end of the summer, there.
Our new Call for Entries for next season is now open, also
The Brainwash Movie Festival would like to take this opportunity to thank all of the many people who helped us along this season, and some, through many, with Special Thanks to Rick Wilson & Holly Irene Cardoza for their extreme help in Doyle @ the shows this year, Bruno Chatelin and filmfestivals.com &, of course, as always, Mike Snook, our congenial host and Philarthropist.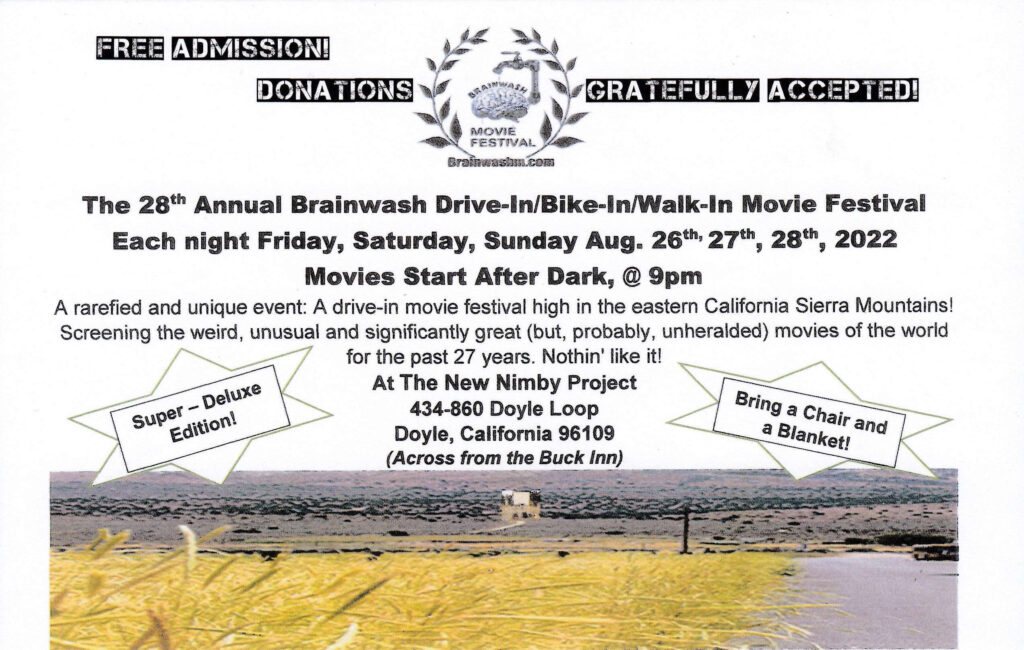 Doyle, California 96109
(Across from the Buck Inn)
Fri., Aug. 26th, 2022
Lemon Lime – Mara Ramirez
Scape Learning – Atobe Hiroshi
The Sprayer – Farnoosh Abedi
This Could Be – Eddy Falconer
Into the Realm of the Night – Patrick Muller
Apres Decembre – Francois Pirotte
If Any – Adam E. Stone
For the Clean Up – Mohammad Moravej
Candied Lips – Hina Effie Ogino
Yurei – Lindsay Sunada
It's Just Balloons – Brian Zahm
Sat., Aug. 27th, 2022
Almost a Masterpiece – Bob Belinoff
Front Window – Javid Farahani
Mister D – Gary Beeber
Elwood – Liam Wurtz
The Thrill – Gordy De St. Jeor
Days Counted – Chandler Gibson
Free Your Mind – Kevin Manh
Cat Clay Chaos – Emmett Fifield
Sun., Aug. 28th, 2022
Stair Stare – John Akre
Closed World and Its' Friend – Nuhae Lee
IXION#2 "The EyeCandyTM" – Joey Bargsten
Cold Brew – David Kennedy
Undeniably Young: Nora Young & the Six-Day Race – Julia Morgan
A Biker's Dream – Ken Glaser
Judges: Kamala, Dave & Mark