The 20th Annual Brainwash Drive-In/Bike-In/Walk-In Movie festival will be held, again, at Nimby, 8410 Amelia at 85th Ave., Oakland, CA, USA. With a virtual plethora of weird, unusual and just plain great short and feature movies, including a previous Academy Award nominee movie from India, this year promises to be worthy of the culmination of 20 years of fine movies for audience enjoyment and edification from Brainwash.
It will be starting Fri., July 18th through Sat., the 26th this year, 2014. All shows start at 9:00pm.
A must see again this year, including movies that will entice, shock the sensibilities and touch your heart. Witness, also, the setting, Nimby, the original DIY industrial art space in Oakland.
The New York Times says the Brainwash Movie Festival "pirat[es] a piece of that old Hollywood magic and challeng[es] conventions on the role of public space in the process." ("Now Playing, a Digital Brigadoon," 7/29/04, Chris Thompson)
"We project movies onto a tarp in West Oakland," counters festival director Shelby Toland.
Admission is $12ea. per show, with discounts becoming available online.
Contact Shelby Toland: brainwash.movies@gmail.com, 510 836-3210 for more information.
"Brainwash has a great mix of original humor, experimental art movies, innovative animation, and short live-action stories with high production values, and some new surprises in 2012," notes 2011 festival judge Jason Gohlke. "The moviemakers are unique and skillful storytellers."
For more info, visit us on Facebook at http://facebook.com/brainwash.movies and on Twitter at http://twitter.com/BrainwashM.
Click on images below to view a larger version, right-click to download (note: sizes below are not proportional):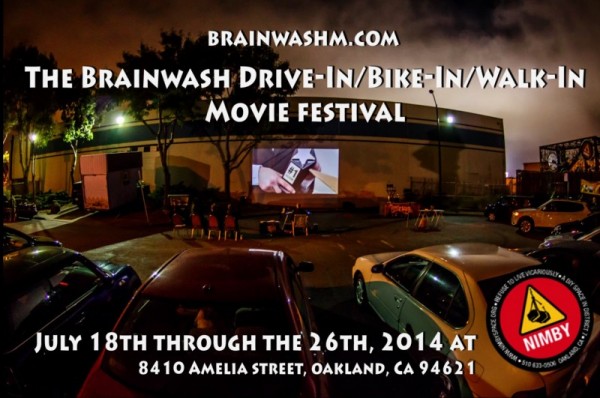 | | |
| --- | --- |
| | |
| | |
| | |
| | The Brainwash Drive-in Bike-in Walk-in Movie Festival. |
| | The Brainwash logo. |
| | Brainwash logo with URL |
| | Timelapse photo of the Brainwash Movie festival (please credit Gary Nakamoto). |
| | Brainwash Movies' irascible and (perhaps) mythical founder, Shelby Toland, issues a directive to festivalgoers from onscreen. |
| | Executive Producer Duncan Maddux presenting "Brainwash First Feature" award in 2009 (from behind the screen). |
| | Repurposed trophies that are actually awarded to moviemakers. |
| | Man in derby and moustache thinks about Brainwash (no known copyright restrictions). |
| | Stylized image of festival with logo. |