2020 Shows! Nov. 6th, 7th, & 8th, in Doyle, California, US!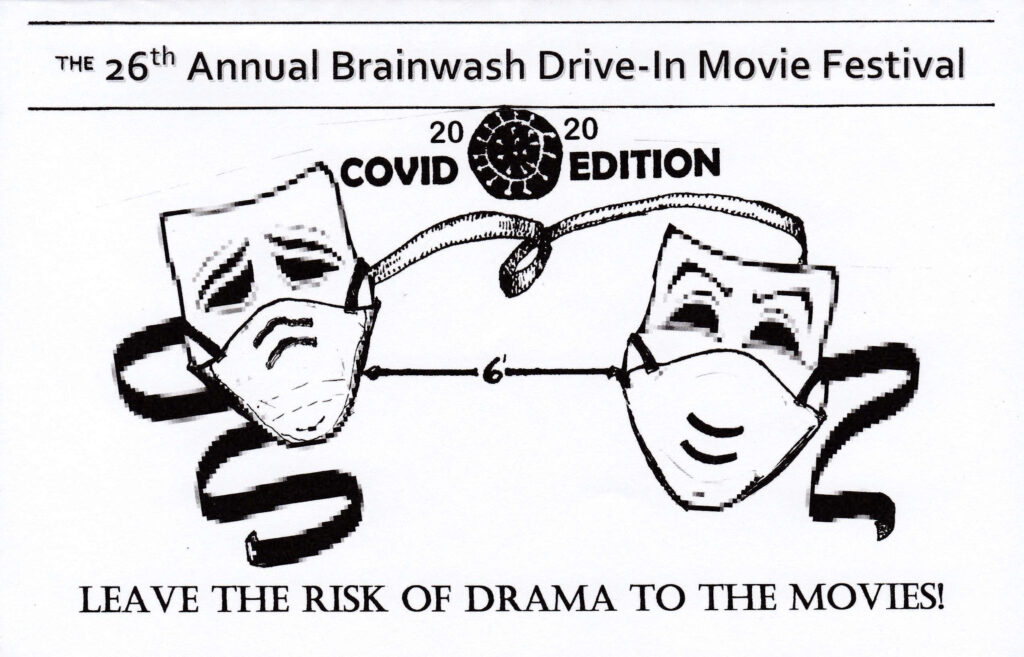 The 2020 Brainwash Movie Drive-In/Bike-In/Walk-In Festival!
Hey, people, let's make better an epic pandemic, lock downs, and lack of any really safe occupation outside of those working at home. Brainwash Movies will have shows online this season , after our safe, socially distanced Drive-In in historic Doyle, CA, 40 miles north of Reno, NV, off U.S. 395.
Free Admission to the Festival Event.
All shows start 5:30pm, PST.



Friday, Nov. 6th
(Naughty Night)

tx-reverse – Virgil Widrich
License & Registration – Jackson Ezinga
Conflict Resolution Webinar – Eli Rarey
Frank, Earnest with Mercy – Jarrod Dean
Shelby Toland's Fear – M. D. Kuczajda
Sad Orangutans Rob a Bank – Grant Raun
Lairs – Emma Penaz Eisner
Washed – Michael Bartolomeo
GREAT AGAIN! – Gary Beeber
Lawyer Lady – Katarzyna Kochany
Brainwash – Elizabeth Sher
The Hands – Shayan Naghibi
Dick Pics! (A Documentary) – Russell Sheaffer
Astral Bravura – Ryan Suits

Tuesday, Nov. 10th
(Nice Night)

Blink of Neon Eyes – Patrick Müller
Swimming Upstream – Caren Messing
Hi-Wheel – Joe Hoster
The Asphalt Playground – Peter VanOosting
The Hole in the Sky – John Akre
Red Elf – Alfred Hernandez
Derek and His Brick – Lee White
Vienna Table Trip – Virgil Widrich
Lilly Goes to the Dogs – Bum Family
Fragments – Mark Neeley
My Birthday – Shayan Naghibi
In These Times – Eric Maierson & Leandro Badalotti
BOOKANIMA: Dance – Shon Kim
Fanny Boop – David Andrews
Tragic Magic – Geoffrey Clark



Wednesday, Nov. 11th
(Nostalgia Night)

Not an Orphan – Dexter Marsh-Taylor
An Apparition – Nagaraju
Sleeze Lake: Vanlife at Its Lowest & Best –
Nick Nummerdor
PAUSE – Charly Wenzel


Thanks to our sponsors this season:

Chimpanzee and Story-O are production software especially designed for independent filmmakers. Chimpanzee allows you to create breakdown sheets, characters, budgets, manage cast & crew, generate call sheets, prop lists, shot lists, storyboards and more. Story-O allows you to outline your story in broad strokes, jot down raw notes and ideas, flesh out details and then put it all in story order when you're ready. Find out more at the Jungle Software website.

InkTip is a service that producers and reps use to find great screenplays, and the results speak for themselves. 393 movies have been made from scripts and writers found on our site.

Magazine…
1675 7th St., #23302 Oakland, CA 94623-6009 USofA
To subscribe or unsubscribe, go to:http://groups.google.com/ group/brainwash-movies
510 836-3210/shelbytoland@yahoo. com
The Brainwash Drive-in Bike-in Walk-in Movie Festival With a vital array of movies from all over the world for the cinematically adventuroUS!