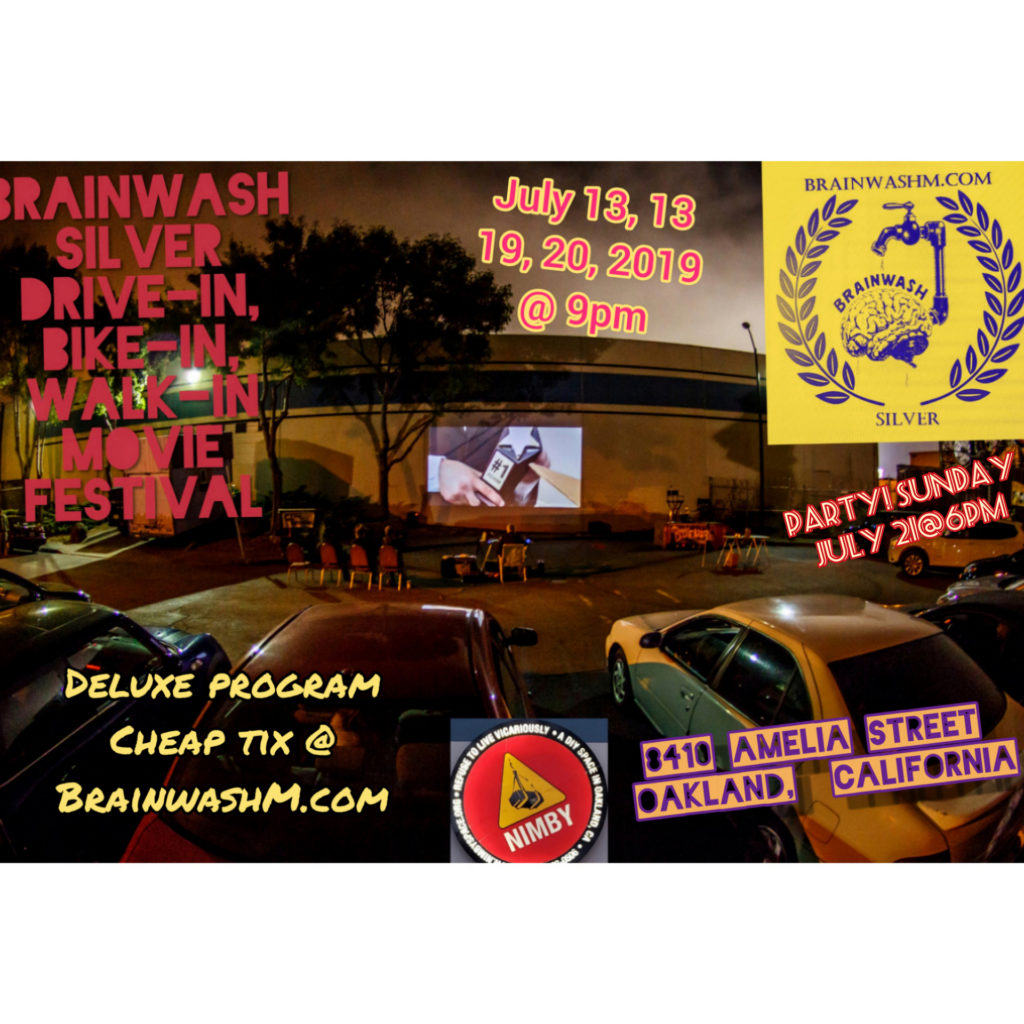 Report From Brainwash Silver
We are Brainwash Movies, doing the Brainwash Movie Festival. We've been going every year for 24 years, and are looking forward to celebrating our 25th Silver anniversary this festival season with you!. Presenting an aesthetic beyond the parameters of the everyday & the usual, we expand into the roots of the underground, experimental & just plain charming. We are pleased as punch to be able to announce our show night programs & ticket information:
Movies Friday, July 12th, Saturday, July 13th, Friday, July 19th & Saturday, July 20th, all starting at 9:00pm.
The Brainwash Silver Anniversary Party Sunday, July 21st at 6:00pm.
Tickets! Only $15 ea., at the door, Big Discounts online!
$10 ea. at Universe with a Tweet for us! Click here.
We thank all of the movie-makers & friends who have contributed to everybody's unusal cinematic experiences at Brainwash Movies.
And beyond…
We hope you love our shows!
Know before you go… Our movie shows start at 9:00pm, our party this year at 6:00pm. We like to keep it dark. We will be broadcasting our movies on FM into your car stereo if you so choose. Or sit outside! If you and all of your 20 friends are in desperate need of snacks at the shows, bring snacks with you! Bring a jacket or blankee, too, because it can get chilly!


Friday, 7/12/2019 9:00pm
Icons
0:05:10
Ronnie
Cramer
Five hundred years of world art in five minutes
The Snail
0:10:42
Mohammad
Towrivarian
Iranian migrants story
Showtime
0:15:40
Shawn
Antoine II
A subway dancer gets a break in NYC
Insectavora
0:14:03
Gary
Beeber
Insectavora: the Coney Island Sideshow fire eater
Baby Bird
0:07:37
Katie Locke
O'Brien
Jen and Paul attend a dinner party. Life will never be the same
Gamer's Wife
0:07:26
Brian
Morelan
He wins, she prevails
a warm glass of milk
0:03:09
HEC.

Examining a history related to inner ear infections and motherhood
One Nation
0:08:50
Rodney
Remson
Raider Nation, the Oakland Raiders fanbase
Outcry
0:05:19
Lucinda
Luvaas
Visual poem
Cut-Subtitle- High
0:01:40
Mehrdad
Bakhshi
2 heads are better than 1
Perception Picnic
0:03:21
John
Akre
A brain and an eye go on a picnic
Light Matter
0:05:00
Virgil
Widrich
Pulsating light creates
Total Time (approx.)
1:29:00



Saturday, 7/13/2019 9:00pm
Obstructions
0:01:00
Eric
Maierson
Do you recognize this?
Holy Spirit
1:37:28
Karin
Lueders
Is "Jesus" a serial killer?
Total Time
1:38:28



Friday, 7/19/2019 9:00pm
OCD
0:05:00
Ken
Glaser
A positive message for OCD'ers
UnderSee
0:07:47
Margie
Kelk
The destruction produced by humans in the Antarctic environment
A Fusilli Western
0:04:51
Jason
Kuchar
Our hero embarks on a quest to bring two outlaws to justice
The Edge of the World
0:08:40
Jonathan
Ritter
Isolated woman breaks out?
I Am He Who Created Himself
0:03:35
Emma Penaz
Eisner
Joining with his shadow, the first god creates himself
Team Teenettes
0:24:55
Brian
Morelan
Girls gone super
Tank Man
0:14:40
Robert
Peters
Tank Man, who stood in front of Tienanmen Square tanks
Mr. Throw 'Em Down The Stairs
0:10:41
Mitchell
Pratt
To save a friend's life, a prankster throws himself down a flight of stairs
Odes
0:04:30
Jon &
Jordan
Total Time (approx.)
1:24:00



Saturday, 7/20/2019 9:00pm
Pie
0:03:30
Doug
Cox
A man with a daily pie in the face
BURN
0:14:59
Judson
Vaughan
In the midst of hysteria and tragedy, a child is born
TONiGHT
1:05:19
Joey
Severini
On the night of their senior prom…
Lilly Goes Fishing
0:07:52
Xstine
Cook
Lilly embarks on an adventure at a lakeside fishing camp
Total Time (approx.)
1:31:00

The Awards Presentations

Movie Maker prizes generously provided by
Jungle Software
InkTip
Videomaker Magazine
Space by Nimby
Please patronize these good businesses!
They are promoting Independent ART!



Sunday, 7/21/2019 6:00pm Silver Party fare:

Music by

Ray Cepeda,

The Spiral Electric
Clay Andrews (vox, guitar, keys) Nicolas Percey (guitar) Cedar Wintgate (bass) Matias Drago (drums)

&

The Special Brainwash Retro Vids.:

1995 – Eyestruck
0:09:32
Int'l Media/Poetry Film Wk.shop
Vincent, Vincent
Edmund
Skellings
The Miracle Is the Shortest Time
Mindy
Molinari
Untitled
Mindy
Molinari
Hamp Gelp MTV
DJ Krzysik/
MD Kuczajda
Find Your Place
Hot Tub Man/
Scott Bartlett
1996 – Jesus Festival Trailer
0:05:00
DJ Krzysik/
Scott Arford
2003 – Brainwash TV Pilot
0:26:22
Jesse
Block
Tow Truck Attack
Aron
Ranen
Shortstop
Joel
Berry
Thought Bubble

Billy Greene/
Jean Margaret
2005 – Pilot Show 01.02
0:26:28
DJ Krzysik/
Jesse Block
Twitch
Leah
Meyerhoff
Find Your Place
Hot Tub Man/
Scott Bartlett
Shortstop
Joel
Berry
Thought Bubble
Billy Greene/
Jean Margaret
2005 – Cannes Trailer
0:03:38
DJ Krzysik/
Diva Conrad
2006 – Chabot Show
0:13:05
Dave
Krzysik
Video tapestry I
Mark McGothigan
Hamp Gelp
DJ Krzysik/
MD Kuczajda
Lunar Lunch
Stan Wisniewski
Bad Trip at Black Rock
Bruce Krueger
The Fool's Errand
Michael Wardner
Video tapestry II
Mark McGothigan
Hamp Back
DJ Krzysik/
MD Kuczajda
2010 – Big Weird Time Show
0:22:05
DJ Krzysik/
J. Gohlke/
D. Maddux
Horror of Our Love
Dave Reda
Goodnight Harvey
Josh Self/
Orlando Rivera II
2011 – Big Weird Time Awards
0:13:07
DJ Krzysik/
J. Gohlke/
D. Maddux
2018 – Test – The 2018 Awards
0:09:04
DJ Krzysik/
Linda Lord