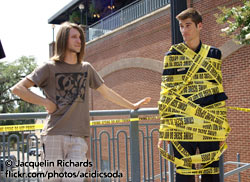 We are happy to announce that the 2010 Brainwash Drive-in Bike-in Walk-in Movie Festival Audience Choice Award goes to — among several very strong contenders — "Morgue: A Love Story With Guts," directed by Donald McQuade and written by Anthony Pizzo! Both of them came up from Southern California to see the 21 shorts we showed at the final weekend of the festival. Our congratulations, and thanks to them for submitting their movie and for coming up!
Speaking of which, we were really glad to get a chance to meet and talk to the moviemakers who came to the festival: Mark Poisella, writer and director of the feature "Dynamite Swine"; Jason Rose (director) and Leslie Rose (producer) of "Viola Concerto"; Matthew McKenna, who directed "Signatures"; Josh Self and Orlando Rivera, co-directors and writers of "Goodnight Harvey"; and Karl Schweitzer and Tony Turino, cast and crew of "Horror of Our Love".
Congratulations again to all of our moviemakers and award winners! See you next year, if not sooner!