Brainwash Drive-in Bike-in Walk-in Movie Festival Returns, Bigger, Better, and Weirder
18th Annual Festival on 9/15, 9/21-9/23 in Oakland to feature feature and short movies, live video and entertainment, food trucks, and more
The New York Times says the Brainwash Movie Festival "pirat[es] a piece of that old Hollywood magic and challeng[es] conventions on the role of public space in the process." ("Now Playing, a Digital Brigadoon," 7/29/04, Chris Thompson)
"We project movies onto a tarp in West Oakland," counters festival director Shelby Toland.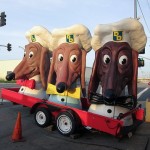 Continues in 2012: The 18th annual festival kicks off on September 15th at 8 pm with popular local food trucks, music by Bekah Barnett, urban minstrel and Head Trip, John Law & Flecher Fleudujon's adventure doc(?) about a cruise with the Cyclecide bus hauling three Doggie Diner Dogheads across country from San Francisco to New York City, preceded by the short movie Surviving Your Bear Attack. Movies start at 9pm.

On September 21st and 22nd, food vendors will open for business and Bekah will start singing at 1357 5th St. starting at 8 pm, and each unique 90 minute show of original short movies will start at 9 pm. In addition, Sunday, 9/23 features, of course, an all-show tribute to Jesus, starting with our own Jesus Festival Trailer, followed by the short Loaded Paradise and a remarkable feature from Louisiana (the other LA) Trailer Park Jesus, movies and food only both starting at 8pm. You won't want to miss it!
"Brainwash has a great mix of original humor, experimental art movies, innovative animation, and short live-action stories with high production values, and some new surprises in 2012," notes 2011 festival judge Jason Gohlke. "The moviemakers are unique and skillful storytellers. You don't want to miss Brainwash this year."
Advance tickets will be just $10 per person per night OR $50 for a Festival Pass for Two, which gets two people into all four nights of the festival (four nights for just about the price of two). Buy advance tickets at http://www.ticketweb.com/snl/EventListings.action?orgId=16986 or at the gate for $12.
Flash your City CarShare fob or come in a City CarShare car and pay just $9 or $12 for two at the gate.
This year the festival returns to 1357 5th St (Mandela Village Arts Center), which means intrepid moviegoers can drive in, bike in, walk in, or take BART in to the festival. The movies will be projected on an outdoor screen, and the soundtrack will be available through your FM stereo (as well as played on amplifiers). "It's a lot of fun, or my name isn't Shelby Toland," claims Toland. "Also, bring your favorite chair!"
For more info, visit us on Facebook at http://facebook.com/brainwash.movies and on Twitter at http://twitter.com/BrainwashM.